DGS Writing Contest Winners Announced
The Dallas Genealogical Society announces the winners of their 2014 Writing Contest, the husband and wife team of Deborah Harvey and Gary Wood, for their article "As the Angus Roam."
Deborah Harvey is a professional genealogist with over 25 years of experience researching family history records across Virginia and the South. Gary Wood is a native of the Lowesville area on the Amherst and Nelson County lines in Virginia. They received a check for $500 for their entry, and a certificate of recognition.
---
Genealogy and the Law
Join us on September 27 for a day with Judy Russell, The Legal Genealogist.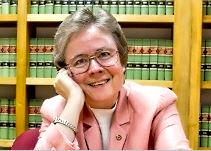 Genealogy and the Law: From the Past to the Future, includes 4 presentations: "From Blackstone to the Statutes at Large - How Knowing the Law Makes Us Better Genealogists"; "Don't Forget the Ladies - A Genealogist's Guide to Women and the Law"; "Through the Golden Door: Immigration After the Civil War", and "The Ethical Genealogist".
Probate Record Index Transcription Completed
Several volunteers have just completed transcribing a 60 page index as part of the DGS/University of North Texas effort to make images of the Dallas County Probate Records from 1846 through the early 1900's available on line. Read More...
---
July-September DGS Newsletter
The July-September 2014 DGS Newsletter is available... Read it now by clicking on Resources, then Newsletters.
---