Genealogy and the Law: Sept. 27 Seminar by Judy Russell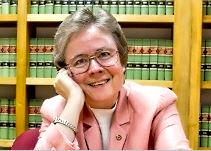 Judy Russell has just been voted a Gold Medal Genealogy Rockstar - somebody described as "those who give 'must attend' presentations at family history conferences or as webinars" (read more at her blog).
You can see for yourself why others consider her their favorite presentor, somebody who makes you "hang on their every word on a blog, podcast or newsgroup, or follow avidly on Facebook or Twitter" at the Dallas Public Library on Saturday, September 27. Read more...
---
Upcoming Meetings & Events
We hope to see you at one of these society events:
---
Texas Land Records Handout Available
Our thanks to Don Raney for his informative and entertaining presentation on "Researching in the Texas Land Record" at the September General Meeting. Don has graciously provided us with a document that provides an overview of his main points as well as a list of resources and references... You can view them on our Meeting Handouts page ( Resources -> Meeting Handouts ) or directly by clicking here.
---
Research Issue of the Pegasus Journal Has Been Published
The latest issue (Summer 2014) of the DGS publication Pegasus, Journal of the Dallas Genealogical Society has been sent via US Mail to DGS members. Members are also able to view it on-line in the Members Only section of our web site. Preview It Here!
---